I've been a Trekkie most of my life. Despite my mother banning me from watching the show when it originally aired, I found the James Blish adaptations and eventually was able to see all the episodes. My Star Trek collection is living proof that it's never too late to have a happy childhood! IMHO, STNG was the best, it most fully realized Gene Roddenberry's vision of an inclusive, accepting and more mature humanity. And it's that philosophy that I find quite compelling.
Some of these convention I either went to alone or Paul didn't participate, so I don't have any pictures from those conventions.
September 1996 Huntsville, Alabama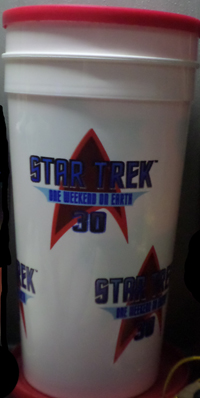 I've been fortunate over the years to be able to attend a number of Star Trek convention and related events. The first major convention I was able to attend was the 30th anniversary event held in Huntsville. It afforded me the opportunity to partake in some Space Camp activities like a chair that simulated the gravity on the moon and the gyroscope, rotating you around in every direction. Very cool. At that convention, I met and was able to talk to James Doohan, such a sweet guy and Nichelle Nichols, a most gracious lady. The funniest part was during the cocktail party, I was in an area that looked down on the ground floor. Every few minutes you would see a mass of people moving much like an amoeba. It took me a moment to realize that the group of people were surrounding Kate Mulgrew. Every time she moved, so did this mass of people. I remember when we were lining up for George Takei autographs and the promoter told us, "We have 1500 people to get through this session, so don't talk to George and especially don't talk to him about jogging! We'll never get done." I had spoken with George earlier in the day as he was mingling with the crowd and the promoter didn't exaggerate much, George loves to talk to the fans!
January 1998 Las Vegas, Nevada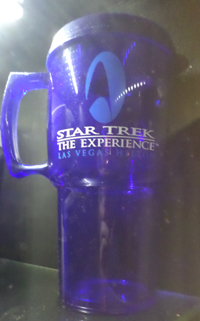 I had entered a contest to attend the premier of Star Trek: The Experience opening at the Las Vegas Hilton. One day I received a call saying I was one of the winners! They offered a hotel room at the Hilton for just $30 a night, so I found a cheap round trip airfare and off to Vegas I went. I got there 2 days early so I could take in the local sights. I enjoyed Indoor Skydiving experience just a couple of blocks away from the Hilton, an airplane tour of the Grand Canyon and dinner in the rotating restaurant at the Stratosphere. The night of the premiere was wonderful! I ate dinner at Quark's Bar & Restaurant, spent a fortune on Star Trek goodies on the promenade, did a bit of gambling at the Space Quest Casino and even ended being quoted in a Newsweek article. One of the days there I was getting lunch in the hotel restaurant, when in walks Michael Dorn. I don't bother celebrities when they are eating, they need a break too. But I was about 2 tables away and my lunch arrived. I took a bite and found the food was painfully, spicy hot. I sat there quietly squirming trying not to look like the food wuss I am in front of Worf. LOL!
| | | | | |
| --- | --- | --- | --- | --- |
| | | | | |
| Stratosphere | | Grand Canyon | | Colorado River |
July 1998 Raleigh, NC
This was the first convention where I went as a dealer. Since I had so many duplicates in my collection, I started in the mid 1990's selling them on Ebay. I figured I could go to conventions as a dealer on my time off from my day job to help offset the cost of the convention and I was one of the few dealers who was also a Trekkie. It was great fun, my husband helped me run the table so I could leave from time to time to attend panels and get autographs. This one featured the Fab Four from the original series (TOS): James Doohan, George Takei, Nichelle Nichols and Walter Koenig. This convention had Dinner with the Stars on Saturday evening.
| | | | | |
| --- | --- | --- | --- | --- |
| | | | | |
| James Doohan (Scotty) | | James Doohan (Scotty) | | Walter Koenig (Chekov) |
1999 Raleigh, NC
The second Fab Four TOS with James Doohan, George Takei, Nichelle Nichols and Walter Koenig. Walter always liked to walk through the dealer's room with particular interest in any Chekov items. He stopped by our table and chatted with Paul.
| | | | | |
| --- | --- | --- | --- | --- |
| | | | | |
| George Takei (Sulu) | | Walter Koenig (Chekov) | | |
2000 Durham NC
This convention featured Leonard Nimoy and John DeLanci doing their Spock vs Q show. These two were not nearly as accessible as the other stars and for Mr. Nimoy, that was quite understandable given a bad experience he had years earlier with a fan. But we had a great time and I scored autographs from both gentlemen.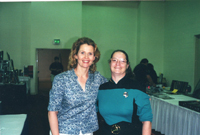 Mary Kay Adams (Grilka)
2001 Durham, NC
This one was the Fab Four of Voyager; Robert Duncan McNeill, Roxann Dawson, Robert Picardo and Ethan Phillips. Kate Mulgrew made a limited appearance. While we didn't get much interaction with the Voyager Fab 4, we have great memories of Walter Koenig stopping by our table to chat as usual, my smoking outside and giving cigarettes to Martin Rayner (Dr. Chaotica, Voyager), a Dinner with the Stars where Judson Scott (Khan's crewman) stopped me and told me he liked the chainmail hair cover I was wearing ( I kept having trouble remembering his name because I had mentally dubbed him tall, blonde and adorable!) and enjoying time in the dealer's room with Grace Lee Whitney. The dealer's room as too cold for Grace, so we lent her one of our Star Trek Afghans to help her keep warm. She ended up buying it she liked it so much!
| | | | | |
| --- | --- | --- | --- | --- |
| | | | | |
| Martin Rayner (Dr. Chaotica) | | | Grace Lee Whitney (Yeoman Rand) | Judson Scott (Khan's Crewman) |
2001 Meadowlands, New York City
This one was one of only two disappointing conventions, I lost my butt on this one. A snowstorm cut attendance dramatically. Some of the local dealers were so kind, they went out to local restaurants to get meals for the out of town dealers to help us cut costs. The hotel room and food prices were obscene! The one cute story is that they promoter had Michael Dorn and Marina Sirtis hanging out in an unheated stairwell awaiting the next event. Marina got sick of that and joined the small group of fans hanging out in the hallway and joined us for a smoke. The promoter came over all upset that his stars were unguarded with the fans. I told him to chill out, we wouldn't let anything happen to Marina or Michael ( although I'm sure Worf wouldn't have any problems, Marina on the other hand was such a slight lady.) The promoter went away, still unhappy, as we enjoyed our unscheduled interaction.
2002 Charlotte NC
The other financially disappointing convention, Tim Russ was the headliner and he didn't show up. Attendance was horrid. The only saving grace was dealers and the few fans had fun throwing tribbles around.
2002 Durham, NC
The last of the local Slanted Fedora conventions. Fond memories for both of us, Paul talking to Denise Crosby in a hallway and me with the Klingons. There was a group of Klingon fans from the western part of NC and they took a liking to me. They invited me up to one of their member's room for a birthday party for Robert O'Reilly and JG Hertzler. Had a great time later on hanging out with Robert, JG and the other Klingons in the bar area until way too late in the evening.
Denise Crosby
(Tasha Yar)

Vaughn Armstrong
(Adm. Maxwell Forrest)

Frances Nguyen
(Elaan of Troyius)

Frances Nguyen &
Herbert Jefferson Jr.

Klingons, what can I say, they like me!

Robert O'Reilly & JG Hertzler
(Gowron & Martok)


JG Hertzler
( Martok)

Paul with JG Hertzler
(Martok)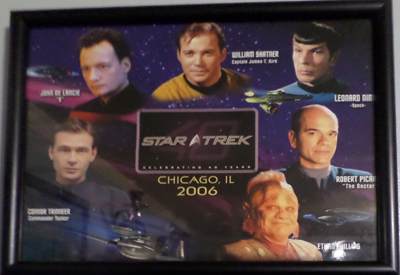 2006 Chicago 40 Year Anniversary
This convention I went to purely as a fan, the logistics of setting up a dealer's table had started to become too onerous with my lupus. It was crowded but great fun. Bought too many goodies as always. Lupus fog has made my memories of this convention a bit hazy. The one bit I do remember was Ethan Phillips starting his talk with a reference to Gene Roddenberry and Ethan said "I don't know what Gene's religion was..." and I shouted out secular humanist. Not sure if he appreciated that or not, probably not.
2007 Philadelphia Star Trek the Exhibition at the Franklin Institute
This was part of one of our history vacations. We visited Independence Hall, the Liberty Bell, took a duck boat tour and went to the Franklin Institute for their Star Trek the Exhibition. It was a nice museum exhibit and we had our pictures taken on the STNG bridge reconstruction.
2017 Ticonderoga NY
This trip was to visit the Star Trek Set Tour that James Cawley and friends have built, and we added a bit of a history tour to it. Mostly my husband toured Fort Ticonderoga, there was too much sunshine for me to be out walking the fort, so I toured the gift shop. We then climbed Mount Defiance, which was shaded. My glasses decided to break the evening before our Sunday Star Trek Set Tour for photo-ops with Nichelle Nichols and Walter Koenig. There was no where to get them fixed, so I ended up doing my photo up half blind. I was seated in the captain's chair with Nichelle behind me and Walter in front of me. Nichelle said "Captain I can't reach Starfleet. "I replied, "That's ok, we're not going to do what they want anyway." That little joke bombed. Pictures were taken while we were doing this. There were events and a room to meet some of the other actors. We had a nice talk with Lee Meriweather and took pictures. There is only one hotel in Ticonderoga and there we ended making friends with a lovely lady from Canada who was working with Nichelle. A nice trip, wonderful weather and a fun experience, if you get the chance to go, do it!
Star Trek Set Tour

Gorn

Bridge

Transporter

Fort Ticonderoga from
Mount Defiance

Nichelle Nichols, myself
and Walter Koenig

Back Row: Charlie Brill (Arne Darvin), Lee Meriweather (Losira), Michael Dante (Maab) & Mary Linda Rapelye (Irina)

Front Row: Eddie Paskey (Lt. Leslie), Brenda Germain & Barbara Luna (Marlena)
2018 Raleigh Supercon (now called GalaxyCon)
Probably my last convention, getting around at a large convention with my lupus has become undoable. This was another chance to see William Shatner and Walter Koenig and to get photos and autographs. My interaction with Mr. Shatner was cute. Somehow I ended up being the first in line for the photo-op. A young man escorted me over to the chair where Mr. Shatner was being seated and the young man said, "There you go young lady." Since I was nearly 60 at that point, I just laughed and quipped, "It's been a long time since anyone referred to me as a young lady." When the photo was done and I started to leave, Mr. Shatner smiled and said "Have a nice day young lady." It brought an even bigger smile to my face and I thanked him. That was so sweet and funny of him to do that. Autographs were done later and it was the usual "cattle call." But Walter's autograph line was nonexistent when I arrived so he and I were able to chat for a few minutes before the crowd arrived. I asked where I was from and I told him Syracuse NY and he told me about a project he was working on involving a central NY murder mystery involving the local Indians. Don't know if anything has come about from that yet, but I keep looking.
| | | |
| --- | --- | --- |
| | | |
| William Shatner (Captain Kirk) | | Walter Koenig (Chekov) |